METHOD MASTER




As of 20th June 2019, the Method Master program is no longer available for purchase.

When I first produced Method Master back in 1994 I could not find any other programs for generating method diagrams. However, there are now many online and off-line programs that provide this function.

My thanks to all the users of Method Master over the years for their support, encouragement and suggestions. The method library will continue to be updated weekly and I will still support existing users via email.

Chris Adams, June 2019.

REGISTERING ON WINDOWS 10

Depending on how the accounts on your PC have been set up, it is possible that the registration details are lost when you exit Method Master and it reverts to Shareware mode.

If you have this problem, run Method Master by right clicking on the icon and selecting 'Run as Administrator' from the pop-up menu. Enter your registration details and then close the program. The Registration details will now be saved and Method Master can be run in the usual way from now on.
METHOD LIBRARY


The Method Master method library is updated weekly and contains over 20,000 methods. The latest version is available from the menu on the left of this page.

CLAPPER STAY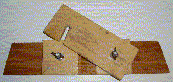 Instead of tying the clapper of a bell when teaching bell handling, I use a clapper stay. This is quick and easy to fit, and very simple to make. Click the menu for more details.